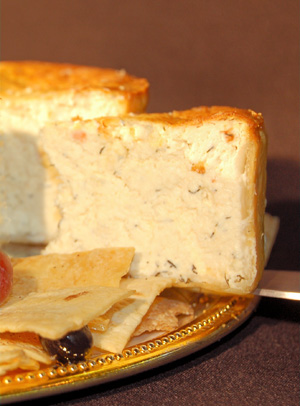 While we take a station break to do some last minute cosmetic changes to the new site, I thought I'd entertain you with another FABULOUS recipe from Chef Michael Hall of the Bull and Bear Club.
As summer comes to an end, or rather ends, and you are trying to figure out what to do with those left over tomatoes from your garden. Why not try out this recipe for a
Sun Dried Tomato Savory Cheesecake.
Okay, I'll admit, when I got this recipe from Chef Michael, I thought...that doesn't even sound good, however, when I tell you what to do with it you'll have the same reaction I did. Your friends will be asking you for the recipe long after your jewelry party is over. It's quick and easy to make, and the perfect appetizer for hostessing your next event. You won't be topping this with strawberries or chocolate, instead you'll serve up with assorted breads and crackers, and no coffee with this cheesecake, the savory seasonings will have you reaching for your favorite glass of wine.
Sun Dried Tomato Savory Cheesecake
Softened Cream Cheese 3 lbs
Whole eggs 4 each
Heavy Whipping Cream 3/4 cup
Cornstarch 1-1/2 tbsp
Oregano dry 1 tbsp
Salt 2 1/2 tbsp
Chopped garlic 1/2 tbsp
Chicken base 1/2 tbsp
Sun dried tomatoes 1 cup pureed
Mix all ingredients together in table top mixer until smooth and creamy. Pour mixture into a 8 inch pan, bake in a water bath at 225 degrees for 1 hour and half or until middle is semi firm to touch. Yum, yum yum, call me when its done!
Unveiling,
Dee