Still busy getting ready for a show this weekend, but today I leave you with a thought from one of my favorite Books called
Acts of Faith
by
Iyanla Vanzant
. It's a book filled with daily meditations.
" I can't afford to go around saying it's hard for me because I'm a woman."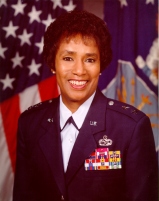 Brig. Gen. Marcelite J. Harris
Marcelite Harris was the first woman aircraft maintenance officer for the United States Air Force; she was the first woman deputy commander for maintenance; and she was one of the first two women air officers commanding at the U.S. Air Force Academy.
I think General Harris is a walking testimony to her own words..what do you say?
Unveiling in my womanhood,
Dee