There's a lot of controversy about whether or not this Fashion trend still stands true. While the rule of not wearing white after labor day may be old fashioned for some, times have changed and in some cases it may even be fashionable. Personally, outside of a great pair of sneakers, I'm not a fan of white shoes in any season, and have only owned three pair in my life...toddler Stride Rites, High School Senior Graduation, and Wedding shoes. But there are some folks who wear them all year long. Now I'm not going to bash anyone for their own personal fashion statements, so, if it works for you...go for it!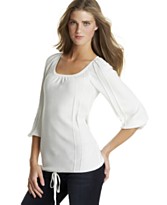 A great alternative for that stark white outfit when the weather turns cold, is what some call Winter white. Paired with something dark like a pair of pants or
skirt, you can easily play off that itch to wear white during the winter with ease. There are even some great accessories to top off your outfit. One can easily pair a white top with a pair of black slacks and boots for great look, like this great American Rag three quarter length sleeve sweater from Macy's. Perfect choice as the weather begins to change, but not yet cold enough for heavier top. As the weather gets colder, try this beautiful light grey cardigan to the left as an alternative from White House/Black Market. With some dark slacks and great accessories you'll definitely get attention when the chill breaks through.
Trying to decide on a light pair of pants, opt for these Ultimate Straight legs,
also from White House/Black Market, available in Ivory. These slacks will go with any color top, finish off with your favorite black or ivory pumps and your ready for a day in the office or a night out on the town. Now, for those who just want to go all out bold this winter, a totally winter white suit will do just that. This elegant Winter white suit by DVC will have you feeling like a Snow Queen, not to mention the center of attention. A bit much for me, but I'm sure someone is feeling this outfit!
Okay, so we've explored the possibilities of outfits, now lets look at some accessories and shoes to wear. Of course any black necklace, bracelet or
earrings will pair well with a black on white outfit and Stella and Dot has a beauty for you this fall. This necklace is stunning in person and is available in black and white. The Kelley necklace features black resin beads or white pearls, accented with a enamel flower brooch. Guaranteed to get you compliments where ever you go, its on my favorites list this season. Visit my
website
for more great Fall/Winter accessories, you're going to fall in love!
As the weather gets colder you'll also be able
to find some ivory shoes to match your new outfits, like these ivory Quirsa pumps from Nine West. These fashion forward square toe pumps will go great with a pair of slacks. Or, why not opt for a pair of knee length boots like these exclusive Chloe Edith's from Neiman Marcus. Priced at $985, you may want to keep looking, but they provide you
with a great idea of your options for Winter shoes.
So, now you have it, fashion tips and trends to get you started with your Winter wardrobe of white. Don't let the old saying of white after Labor day get you down and out, there are endless options, just be careful in your choices and you'll still be fashionable when the weather turns cold.
Leave your comments and let me know your take on White after Labor Day!
Unveil in white this winter,
Dee